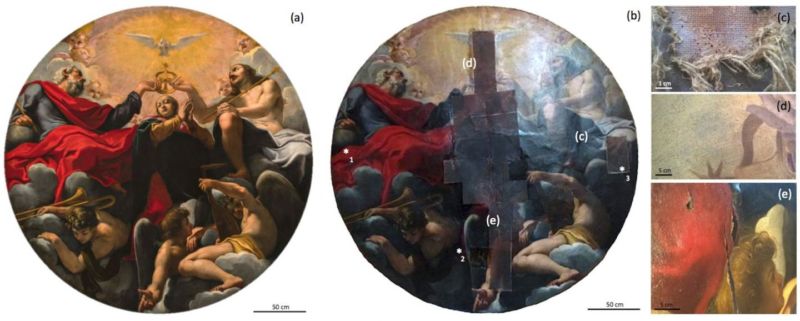 Enlarge / The middle image shows the painting as it now appears, with close-ups of four centuries of damage and wear on the right. The asterisks mark the locations of Caselli and her colleagues' samples. (credit: CC BY license, with permission from )
A new study describes the complex ecosystems of bacteria and fungi that live and feast on a 17th-century painting—and how other species of bacteria may one day help art conservators fight back.
If you could zoom in for a microscopic look at an oil painting on canvas, you would see many thin, overlapping layers of pigments—powdered bits of insects, plants, or minerals—held together with oils or glue made from animal collagens. Many of those pigments and binding materials are surprisingly edible to bacteria and fungi. Each patch of color and each layer of paint and varnish in an oil painting offers a different microbial habitat. So when you look at a painting, you're not just looking at a work of art; you're looking at a whole ecosystem.
Microbes' artistic taste
To better understand these microscopic art vandals, University of Ferrara microbiologist Elisabetta Caselli and her colleagues turned to a Renaissance painting called "Incoronazione della Virgine," by painter Carlo Bononi. The painting once adorned the ceiling of the Basilica of Santa Maria in Vado, Italy. When an earthquake damaged the church in 2012, staff took down the 2.8 meter (9.18 foot) round canvas from where it had hung since 1620 and leaned it against the wall in an inner niche of the church.