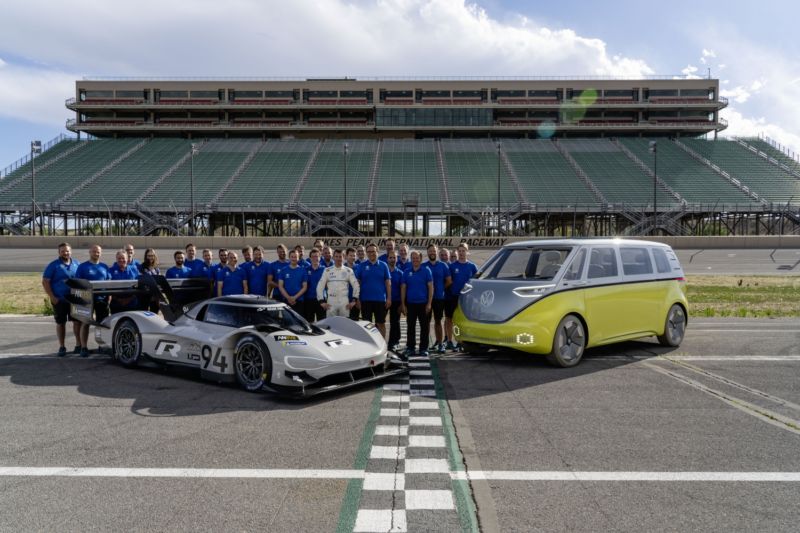 Enlarge / On the left, the Volkswagen I.D. R electric racer. On the right, the I.D. Buzz, which goes into production in 2022. (credit: Volkswagen)
2018 was a something of a banner year when it came to hybrids and electric cars showing their stuff. At the end of June, Porsche—on something of a farewell tour after cancelling its Le Mans program the year before—destroyed the lap record at the almighty Nürburgring Nordschleife with its 919 Hybrid. For 35 years, the fastest lap of this 12.9-mile (20.8km) ribbon of road in Germany's Eifel Mountains stood at 6:11.13, set by Stefan Bellof and a Porsche 956 during qualifying for the the Group C race held there in 1983. But in 2018, Porsche returned to one of the most fearsome racetracks in the world intent on beating Bellof's time, and it did; with Timo Bernhard behind the wheel, the 919 Evo lopped almost a minute off, completing a circuit in 5:19.55.
Five days earlier, Porsche's corporate sibling Volkswagen did something similar, this time with a battery electric car. At the annual Pikes Peak International Hill Climb, Romain Dumas set a new world record for the fastest time up the mountain. Here too, a record many thought unbreakable—Sébastien Loeb's 2013 time of 8:13.878—was eclipsed when Dumas completed the 12.4-mile (19.9km) race to the clouds in 7:57.148.
I was on the mountain that day, and asked more than one VW representative whether they'd consider taking their new electric monster to the Nordschleife. The similarities were too obvious not to ask—similar distances, similar terrifying reputations, and so on. At the time the question was quickly dismissed, and VW's engineers would point out that despite the apparent similarities, there were important differences too.