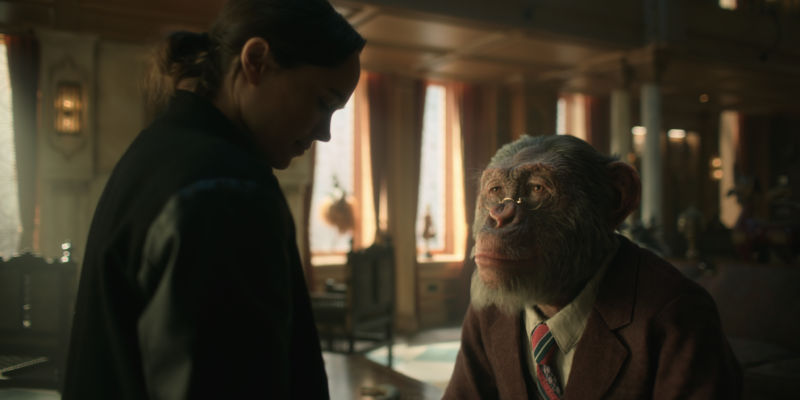 Enlarge / Ellen Page as Vanya Hargreeve and a CGI chimpanzee as Pogo, the Hargreeve family's primate butler. (credit: Netflix)
The Umbrella Academy is by no means a perfect comic series, even though it's one of the best mid-'00s alterna-comics to take on X-Men archetypes. Its stories, which were first published by Dark Horse in 2007, play out like charged, orchestral emo songs—full of delightfully melodramatic hooks, sweeping segments, and a few shamelessly hackneyed takes on emotion. (Which makes sense, considering Gerard Way of emo cultural bellwether My Chemical Romance fame is the writer.)
Years after the comics' first two volumes concluded, a live-action adaptation has emerged, courtesy of Netflix. Though the show doesn't debut until February 14, we were given early access to its ten-episode season—but I struggled to get through the whole thing. Between a total plot rewrite, questionable casting, and abysmal pacing, this series lands pretty low on Netflix's all-time adaptation list in terms of quality and watchability.
Grieving over Hargreeves
The most stark issue is Umbrella Academy's decision to take roughly six comic books' worth of material (from the series' first volume) and convert it into ten 50-minute episodes. The amount of plot and action contained in each episode is the equivalent of roughly 18 comic book pages. Conversations drag on. Every "important" scene is preceded and followed by a ridiculous amount of slowly panning views of brooding characters mixed with generic, synthesized orchestral swells. Imagine if two complete comic book pages were dedicated to someone walking up to a troubling scene, whispering an expletive, and then staring at the scene some more, and you'll get the idea.