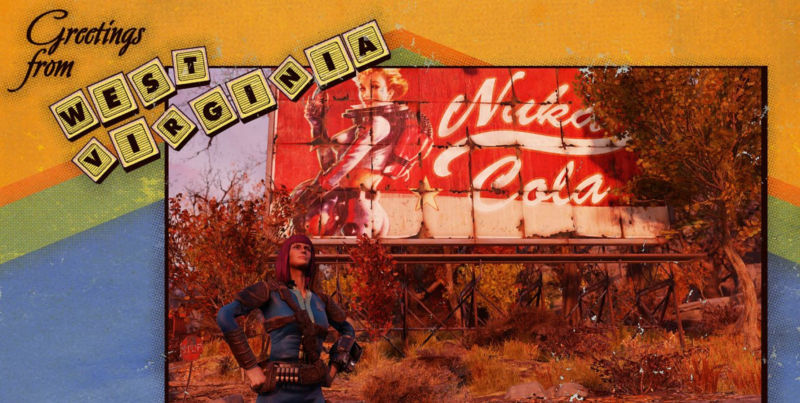 Enlarge / The in-game photo mode has a variety of filters and frames to play with.
When you emerge from Vault 76 and get your first glimpse of Fallout 76's Appalachia region, the world seems full of possibility. The scenery is lovely, all autumn foliage and breathtaking mountains; the map is huge and decorated with all kinds of seemingly unique locales; and you're being led by holotape on a journey that promises to be epic.
Unfortunately, that sense of wonder proves hard to maintain. The wasteland ends up feeling empty and lonely, that lush world can quickly become a nightmare at the hands of other players, and a smorgasbord of technical issues hinders the entire experience. In the two weeks since its launch, Fallout 76 has proven to be fun and frustrating in equal measure, feeling more like an unfinished experiment than a completed game.
Almost heaven
Situated squarely in the coal mining region of Appalachian West Virginia, Fallout 76 does a good job of incorporating real-life towns and landmarks into the franchise's deep lore. Clues left throughout the world show how the arrival of Vault-Tec initially offered the community a more promising future, particularly for those attending Vault Tech University or who chose to stay in the prestigious Vault 76.