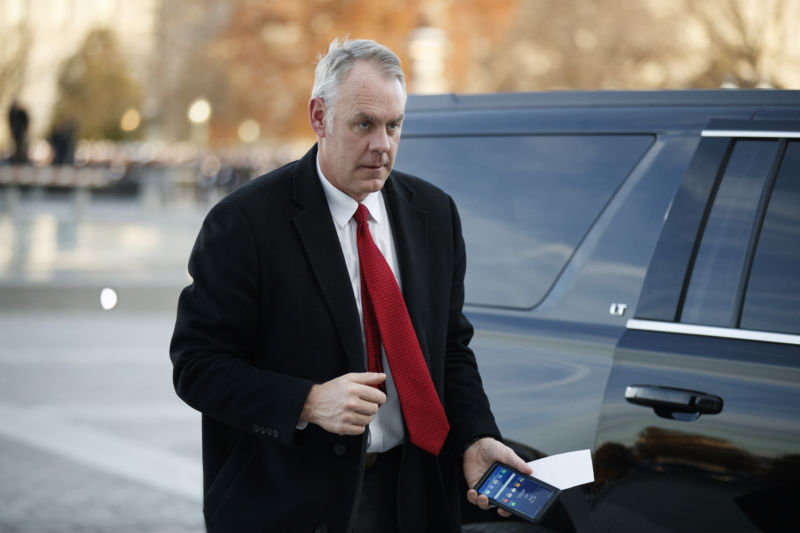 Enlarge / US Secretary of the Interior Ryan Zinke arrives at the US Capitol prior to the service for former President George H. W. Bush on December 03, 2018 in Washington, DC. (credit: Photo by Shawn Thew – Pool/Getty Images)
On Friday, President Trump announced on Twitter that Interior Secretary Ryan Zinke will step down from his post in the coming weeks. Zinke has headed the Department of the Interior (DOI) since 2017 and overseen some of the more significant rollbacks in environmental policy in the US.
Trump said a successor to Zinke would be named in the coming week. A likely successor, according to Reuters, is David Bernhardt, the current Interior Deputy Secretary and a former oil, gas, and water industry lobbyist. According to Politico, Bernhardt played an active role in weakening Endangered Species protections to make it easier for oil and gas drilling to occur on ecologically sensitive land.
Zinke's time in office was marked by a similar effort to stymie the environmental protections put in place by the Obama Administration in the name of oil and gas interests. In one of his most controversial moves, Zinke reopened vast tracts of federal waters that had previously been off-limits to offshore oil and gas drilling. The Secretary drew sharp criticism for opening up federal waters adjacent to states that didn't want offshore drilling, while exempting Florida from the same treatment after a meeting from the state's Republican governor.