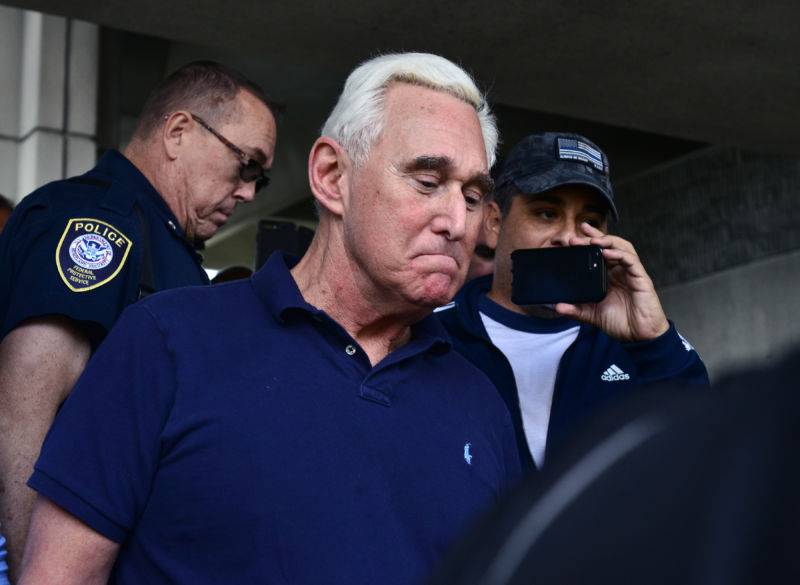 Enlarge / Roger Stone, a former advisor to President Donald Trump, leaves the Fort Lauderdale Federal Courthouse on January 25, 2019. Stone was charged by the government of obstruction, giving false statements and witness tampering. (credit: Johnny Louis/Getty Images)
Former Trump advisor and self-proclaimed "dirty trickster" Roger Stone—the man with a Richard Nixon tattoo on his back and a penchant for playing the evil genius—was arrested early on January 25 by a swarm of tactically equipped (and unpaid) FBI agents. The charges against him, in an indictment handed down by a federal grand jury convened by Special Counsel Robert Mueller, include witness tampering, obstruction of a Congressional investigation, and six counts of making false statements to Congress.
Stone had previously played up his connections with WikiLeaks' Julian Assange repeatedly. The advisor allegedly concealed the nature of those communications with WikiLeaks, lied about who acted as his intermediary, and made Godfather II references in his messages urging radio host Randy Credico—one of his go-betweens to Assange—not to contradict details of his testimony.
The evidence listed against him in the indictment includes emails, text messages, and other communications—communications that contradict Stone's contention to the House Permanent Select Committee on Intelligence (HPSCI) that all his communications were over the phone and with only one individual. This evidence also shows Stone attempting to cajole and intimidate Randy Credico by threatening to take away his therapy dog and have his lawyers "rip you to shreds." At one point, Stone allegedly even texted Credico, "Prepare to die [expletive]."