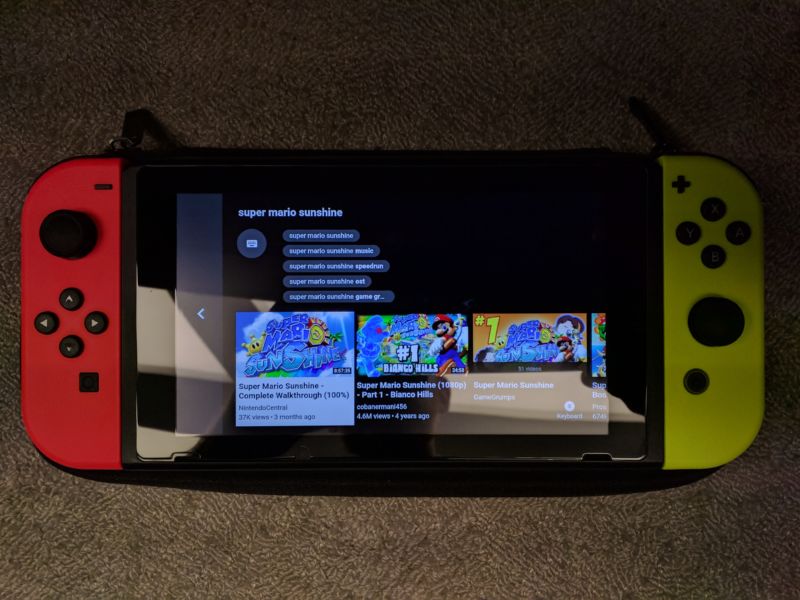 Enlarge

/

For now, a YouTube search is as close as we're gonna get to

Super Mario Sunshine

on Nintendo Switch. (credit: Sam Machkovech)

Following a wave of rumors, Nintendo confirmed on Thursday that its Nintendo Switch console has added an official YouTube app to its meager selection of media-viewing options.

Google's app is now available as a free download on a variety of territories' eShops (including North America and Japan, which we've tested thus far), and its interface largely resembles dedicated YouTube apps on smart TVs and set-top boxes. The primary difference is that the Switch's on-screen keyboard obscures any auto-complete results you might expect while searching for topics. You can attach your YouTube credentials to retrieve viewing histories, check subscription feeds, and receive automatic video recommendations.

The app, in our limited testing, held up to visual scrutiny in terms of delivering a clear image and a 60fps refresh when replaying high-detail content like "let's play" videos of modern video games. Proving this via direct screenshots is a bit tricky, however, as the YouTube app forbids use of the Switch's built-in "share" button.