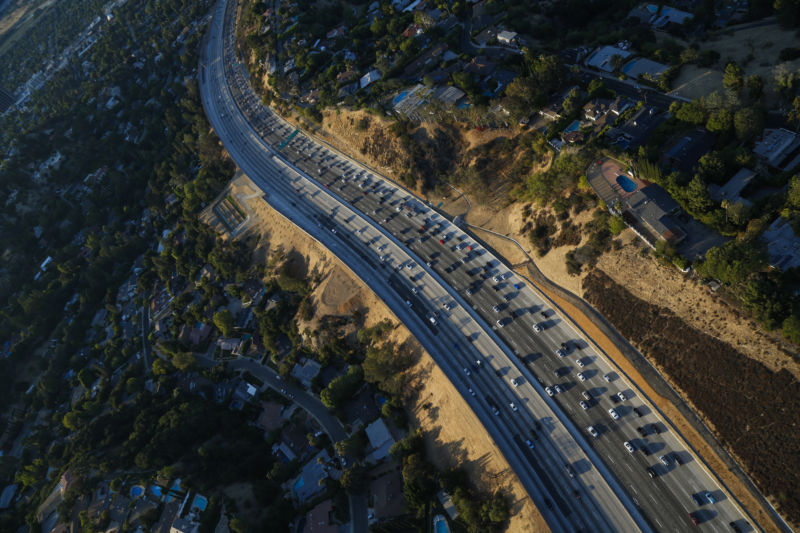 Enlarge / Cars sit in rush hour traffic on the 405 Freeway through the Sepulveda pass in this aerial photograph taken over Los Angeles, California, US, on Friday, July 10, 2015. (credit: Patrick T. Fallon/Bloomberg via Getty Images)
Back in August, The Boring Company was already distancing itself from a plan it pitched earlier in the year to build a test tunnel under Sepulveda Boulevard and the 405 freeway in Los Angeles.
On Tuesday, The Boring Company and a group of Westside residents issued a joint statement that they had "amicably settled" a lawsuit brought by the residents against The Boring Company in May of this year, according to the Los Angeles Times. The company, founded by Tesla and SpaceX CEO Elon Musk, said it would drop plans to build the 405 test tunnel and focus instead on building the so-called "Dugout Loop" that will run between a downtown LA Metro station and Dodger Stadium, if all goes as planned.
Musk announced the 405-parallel tunnel in an evening talk back in May, describing it as a 2.7 mile north-south test tunnel that wouldn't carry the general public—at first. Musk added at the time that The Boring Company would eventually do test rides to get user feedback. The City of Los Angeles appeared poised to fast-track Musk's idea, with LA Metro announcing: "We'll be partners moving forward."