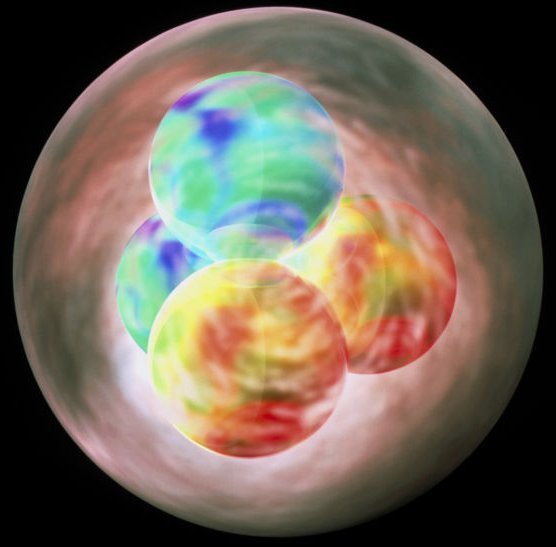 Enlarge / Computer artwork of the nucleus of a helium atom, or an alpha particle given off during radioactive decay. The nucleus consists of two positively charged protons (red) and two neutral neutrons (green) surrounded by a quantum cloud of gluons, a type of subatomic particle. (credit: Getty Images)
In recent months, I've mentioned super-solids a couple of times, which is a bit unusual for something we haven't been sure actually exists. However, a recent paper seems to offer some quite strong confirmation that super-solids are real. That means it is time to delve into the weird and wonderful world of low-temperature helium.
Helium is, without a doubt, the Universe's weirdest material, beating out molecular hydrogen by a rather long nose. The key to helium's strangeness is that it is normally a boson: a helium-4 atom consists of two protons, two neutrons, and two electrons, which sums to an even number, making a composite boson.
Helium is confusing
What does all that mean? It means that when cold enough, a group of helium atoms can enter the same quantum state. Even though they are spread out over a whole vessel, they all know something about the condition of their distant neighbors. This enables the helium atoms to flow without resistance, a state called a superfluidity. It's good company among other weird and wonderful properties of helium.