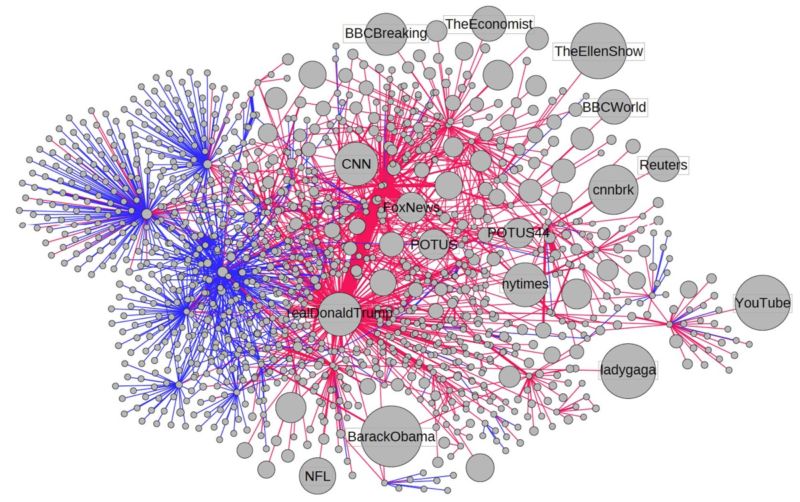 Enlarge / Visualization of the spread through social media of an article falsely claiming 3 million illegal immigrants voted in the 2016 presidential election. (credit: Filippo Menczer)
Shortly after the 2016 election, newly elected President Donald Trump—peeved at losing the popular vote to Democratic opponent Hillary Clinton—falsely claimed he would have won the popular vote if not for the supposed votes of 3 million illegal immigrants. The lie spread rapidly across social media—far faster than factual attempts to debunk it. And Twitter bots played a disproportionate role in spreading that false information.
That's according to a new study by researchers at Indiana University, published in Nature Communications. They examined 14 million messages shared on Twitter between May 2016 and May 2017, spanning the presidential primaries and Trump's inauguration. And they found it took just six percent of Twitter accounts identified as bots to spread 31 percent of what they term "low-credibility" information on the social network. The bots managed this feat in just 2 to 10 seconds, thanks in large part to automated amplification.
Why are bots so effective at spreading false information? Study co-author Filippo Menczer attributes their success to so-called "social bias:" the human tendency to pay more attention to things that seem to be popular. Bots can create the appearance of popularity, or that a certain opinion is more widely held than it actually is. "People tend to put greater trust in messages that appear to originate from many people," said Menczer's co-author Giovanni Luca Ciampaglia. "Bots prey upon this trust by making messages seem so popular that real people are tricked into spreading their messages for them."