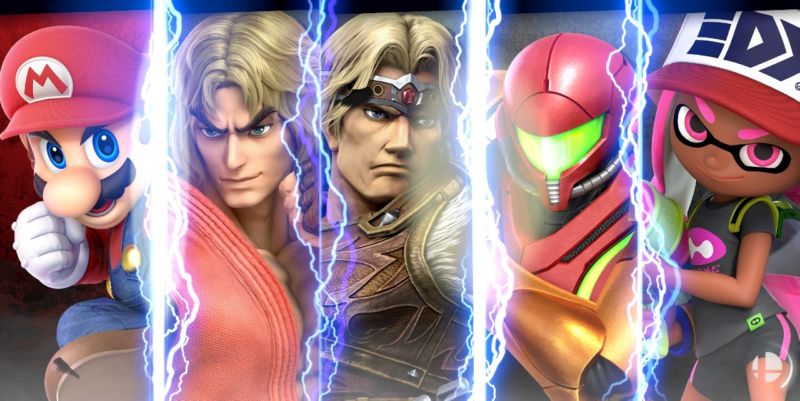 Enlarge

/

Five of

Super Smash Bros. Ultimate

's 74 combatants. There's a lot to talk about—and a lot to love. (credit: Nintendo)

Super Smash Bros. Ultimate isn't content being a merely "big" video game. Nintendo's latest mascot-fighter sequel seems determined to wallop you over the head with its enormity, even after establishing itself as an oversized package.

It's not enough that the game ships with dozens of gaming-nostalgia icons. The big-name Nintendo mascots (Mario, Link, Pikachu), the more obscure company wild cards (Ice Climbers, ROB, "Dark" Pit), and the beloved third-party guests (Solid Snake, Sonic the Hedgehog, Final Fantasy VII's Cloud) are all back from older Smash games, fulfilling the development team's "every fighter ever" promise. They're joined by a cast of very welcome (and masterfully designed) newcomers, bringing the fighter selection up to 74.

But, wait, there's more: you'll fight across 103 battle arenas and bust out dozens of the game's items, assist trophies, and Pokemon helpers. If you were to shuffle the game's variables before every basic versus match, you'd likely need years to see the same battle appear twice. It's a lot—and that's not even counting the value of the seam-busting soundtrack.

Yet someone at the combined development teams of Sora Ltd and Bandai-Namco couldn't leave well enough alone. They were determined to deliver even more by way of a ridiculous combatant count: more than 1,200 classic characters. To be fair, this comes by way of a gimmick—a new single-player "Spirits" mode. Luckily for fans, the way Smash Ultimate achieves this ludicrous count is quite interesting, and occasionally fascinating.