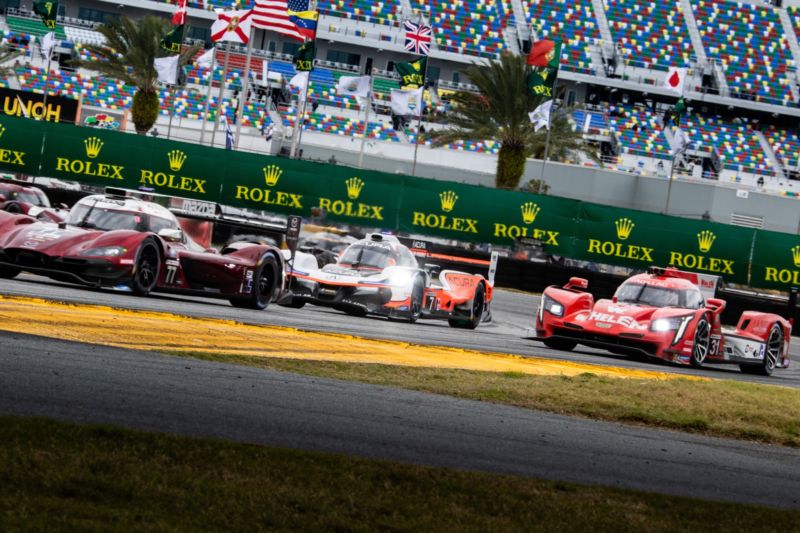 Enlarge / The #77 Mazda Team Joest, Mazda DPi (Oliver Jarvis, Tristan Nunez, Rene Rast, Timo Bernhard), the #7 Acura Team Penske, Acura DPi, (Helio Castroneves, Ricky Taylor, Alexander Rossi), and the #31 Whelen Engineering Racing, Cadillac DPi (Felipe Nasr, Eric Curran, Mike Conway, Pipo Derani) racing on Saturday at Daytona (credit: Rolex)
Although we usually cover our own travel arrangements, in this case Rolex flew me to Orlando and provided two nights in a hotel in Daytona Beach.
DAYTONA BEACH, FLA.—This past weekend, much of the world's racing fraternity turned out for the annual Rolex 24 endurance race at Daytona International Speedway. First held in 1962, the race around the clock on a 3.5-mile (5.6km) mix of 31-degree banking and flat infield is probably IMSA's highest-profile event, and one of the toughest 24 hour races on the calendar. 2019's event was no cakewalk, particularly once Mother Nature showed up to spoil the party.
The start of the 2019 Rolex 24 at Daytona. The racing was good, but we got less than 12 hours of green flag action thanks to cautions and then the weather. [credit:
Rolex ]
Regular readers will no doubt be familiar with the IMSA series. But if you've never heard of it, or are wondering what we're doing in Florida in January when the Daytona 500 isn't until February: this is the US' top-tier sports car racing series. There are four different categories of car, all of which race at the same time. The fastest of these is the DPi class, for 600hp (kW) prototype race cars from Acura, Cadillac, Mazda, and Nissan. Well, sort of, because the DPis are actually based on the other prototype class, LMP2. LMP2 cars are also carbon-fiber prototypes, but all of them use the same 4.0L Gibson V8 engine.