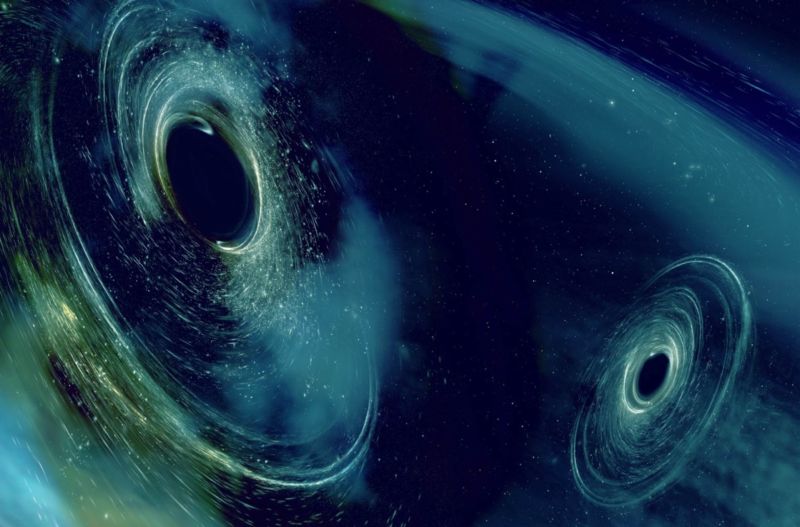 Enlarge / Artist's rendering of two merging black holes, producing telltale gravitational wave signatures that were picked up by the LIGO/VIRGO detectors.. (credit: Aurore Simonnet/LIGO-Virgo Collaboration/Sonoma State University)
At a weekend workshop in Maryland, physicists from the LIGO and Virgo collaboration reported four previously unannounced detections of gravitational waves from merging black holes, including the biggest-known black-hole collision to date, roughly 5 billion years ago. That merger resulted in a new black hole that is a whopping 80 times larger than the sun.
All four are part of the first official catalog of gravitational wave events (called the Gravitational Wave Transient Catalog, or GWTC-1), listing all events detected to date. Their addition brings the total number to 11. Two scientific papers on the new findings have been posted to the arXiv preprint repository (here and here), pending publication.
LIGO detects gravitational waves via laser interferometry, using high-powered lasers to measure tiny changes in the distance between two objects positioned kilometers apart. (LIGO has detectors in Hanford, Washington, and in Livingston, Louisiana. A third detector in Italy, Advanced VIRGO, came online in 2016.) On September 14, 2015, at 5:51am EST, both detectors picked up signals within milliseconds of each other for the very first time—direct evidence for two black holes spiraling inward toward each other and merging in a massive collision event that sent powerful shockwaves across spacetime.