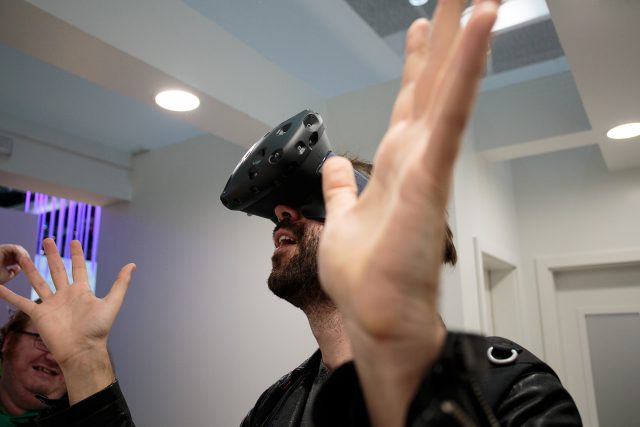 We'll still use any excuse to reuse this photo of Ars alumnus Sebastian Anthony reacting to VR. (credit: Sebastian Anthony)
Ever since Oculus co-founder Palmer Luckey revealed that the first consumer Oculus Rift headset would launch at $600, many industry watchers have been arguing that the high price of entry was keeping virtual reality from becoming a truly revolutionary mass-market technology. Though prices for VR headsets and compatible hardware have come down quite a bit since then, sales and usage stats are still struggling to climb out of the doldrums when compared with other tech products.
Now Luckey, who left Oculus in early 2017, argues in a recent blog post that there is no price low enough to convince a critical mass of people to regularly engage with existing VR headsets:
No existing or imminent VR hardware is good enough to go truly mainstream, even at a price of $0.00. You could give a Rift+PC to every single person in the developed world for free, and the vast majority would cease to use it in a matter of weeks or months.

I know this from seeing the results of large scale real-world market testing, not just my own imagination—hardcore gamers and technology enthusiasts are entranced by the VR of today, as am I, but stickiness drops off steeply outside of that core demographic. Free is still not cheap enough for most people, because cost is not what holds them back actively or passively.
Luckey goes on to estimate that current VR technology could attract an absolute ceiling of 50 million active users worldwide, and that only with significant industry effort. That's a far cry from the 1 billion users Facebook CEO Mark Zuckerberg cites as his long-term goal for VR adoption.