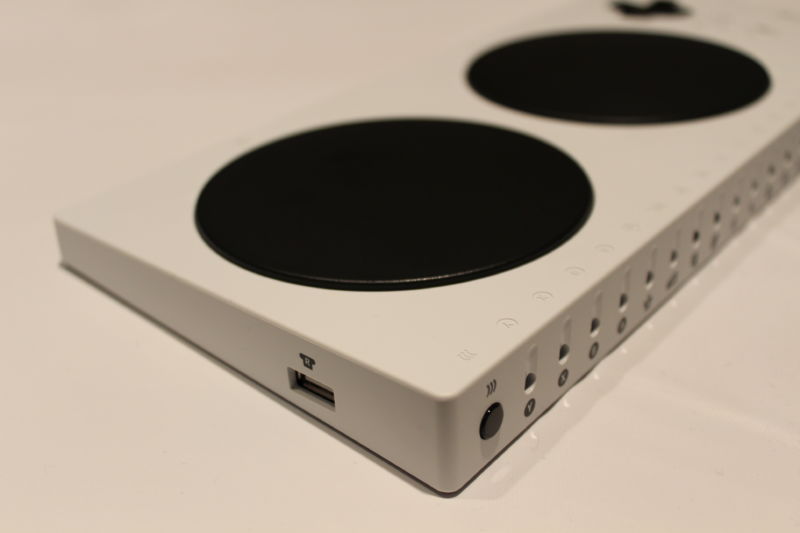 Enlarge / All of those Xbox Adaptive Controller ports can now work with the Nintendo Switch… if you buy a $25-ish adapter. (credit: Sam Machkovech)
The May unveil of the Xbox Adaptive Controller included a pledge from Microsoft: the company didn't care if other gaming companies jumped on board, or even piggybacked on Microsoft's product, to get more limited-mobility users into console gaming.
Neither Sony nor Nintendo has followed suit by unveiling official support for the $100 XAC, but one enterprising user has confirmed what we long suspected. Other consoles (in today's case, the Nintendo Switch) can nimbly support Microsoft's ambitious controller after jumping through simple hoops.
YouTube user MyMateVince posted his confirmation over the weekend (embedded below) along with a step-by-step guide of what's needed to open the Nintendo Switch up to the XAC—and, thus, its support for USB joysticks and 3.5mm-port switches and pedals. The biggest requirement is a third-party USB adapter, and this test used the Mayflash MAGIC-NS Wireless Controller Adapter (currently under $25 at Amazon). This adapter was chosen in part because its retail box includes a USB Type-C adapter, which works with the XAC whether you set up the Nintendo Switch in docked or handheld mode. (Though this adapter is advertised as a wireless one, this test only confirmed wired XAC support.)