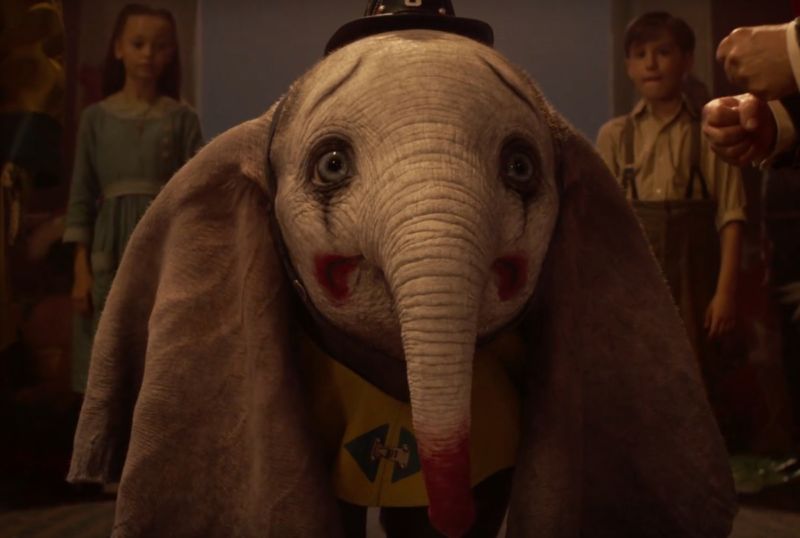 Enlarge / Tears of a clown: Everyone's favorite misfit baby elephant with the big floppy ears is back. (credit: Disney)
When Disney first announced a live-action version of its 1941 animated classic, Dumbo, plenty of people were skeptical. The original was well-nigh perfect. Why mess with perfection? Reactions were decidedly more positive when the first teaser dropped earlier this year. Now there's a new trailer that should dispel any lingering doubts. The live-action Dumbo promises to be just as magically transporting as the original.
In the 1941 film, the newborn Dumbo becomes the butt of jokes because of his enormous ears. When some boys taunt him, his enraged mother loses her temper and attacks them. She is declared mad and locked in a cage, leaving Dumbo alone. Too clumsy to be featured in the circus elephant act, he is made into a clown instead. Dumbo's only friend in this miserable existence is a mouse named Timothy, who discovers Dumbo can fly and stages an elaborate stunt at a circus performance one night to prove it. Dumbo becomes the star of the circus and is reunited with his mother.
Director Tim Burton's version appears to follow the same general outline, with a few updates. Here, Dumbo is befriended by two young children, whose father has been hired by the circus to care for the baby elephant. Dumbo's flying ability draws the attention of an evil entrepreneur (played by Michael Keaton), who buys out the circus, the better to exploit its star attraction. The circus moves to Dreamland, a place somewhat reminiscent of Disneyland. This being a Disney film, it's safe to assume that Dumbo and his friends triumph over those who would exploit them for profit, and live happily ever after.