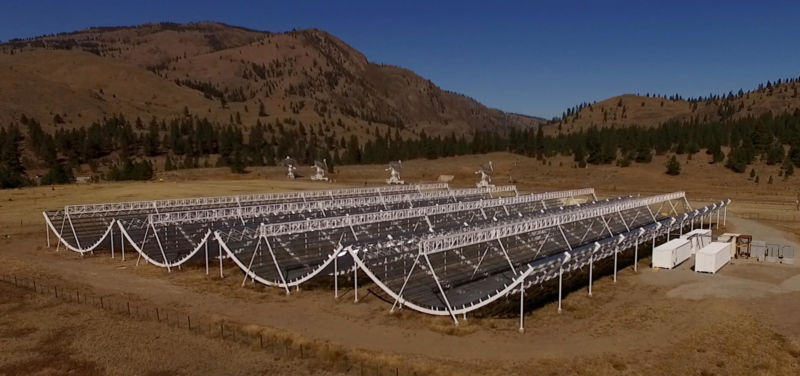 Enlarge / Yes, that's a telescope. (credit: CHIME)
Fast Radio Bursts were discovered about a decade ago and have remained enigmatic since. Over the course of a few milliseconds, something—we have no idea what—releases a tremendous amount of energy at radio frequencies. With a single exception that launches repeated fast radio bursts, the sources are never heard from again.
When faced with an enigma like this, the standard scientific mantra applies: we need more data. So, in less than a decade, radio telescopes have been designed and built to identify more of these events. The latest entry, CHIME (for Canadian Hydrogen Intensity Mapping Experiment), has only just been built, but its builders started having it do science while still under construction. And CHIME quickly paid off by identifying the closest and lowest-frequency fast radio bursts yet found, along with only the second example of a repeating source.
A CHIME in progress
Just how unfinished was the new telescope? "New racks of compute nodes were being installed and the number of nodes operating, and hence beams on sky, varied from day to day," its scientists say. "Additionally, the number of compute nodes operating in the correlator, and hence the frequency coverage, also varied daily." Things were such that the data for a fast radio burst was lost, leaving scientists with only details from its metadata, like when and roughly where it occurred.