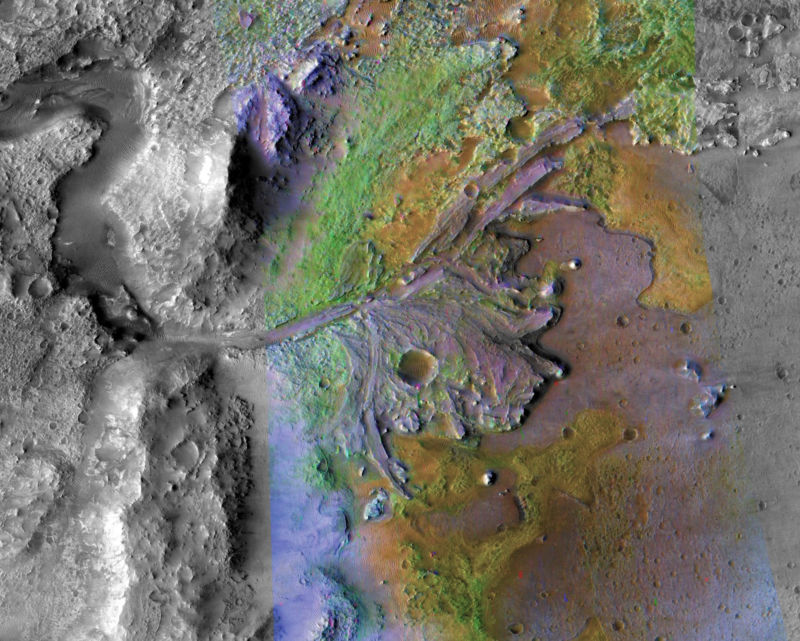 Enlarge / The delta within Jezero Crater. (credit: NASA/JPL/JHUAPL/MSSS/Brown University)
On Monday, NASA announced that it had chosen a landing spot for its upcoming Mars 2020 rover. The site (more or less at center here) is called Jezero Crater, and it contains a delta formed by flowing water. NASA says that landing in its difficult terrain requires new technology that allows increased steering in the atmosphere.
Mars 2020 will be based on the design of the Curiosity rover, which is currently operating in Gale Crater, but it will have a different suite of instruments. The mission will have two focuses: to give us a better perspective on whether Mars has ever hosted life and to cache rocks for a sample return mission.
The details of how to get rocks back off the Red Planet are still being worked out. But there has been a steadily growing body of evidence that Mars had large amounts of liquid water on its surface in the distant past, and Mars 2020 will be about sampling some of what that water left behind in order to determine if it could have hosted lifeforms similar to those on Earth.