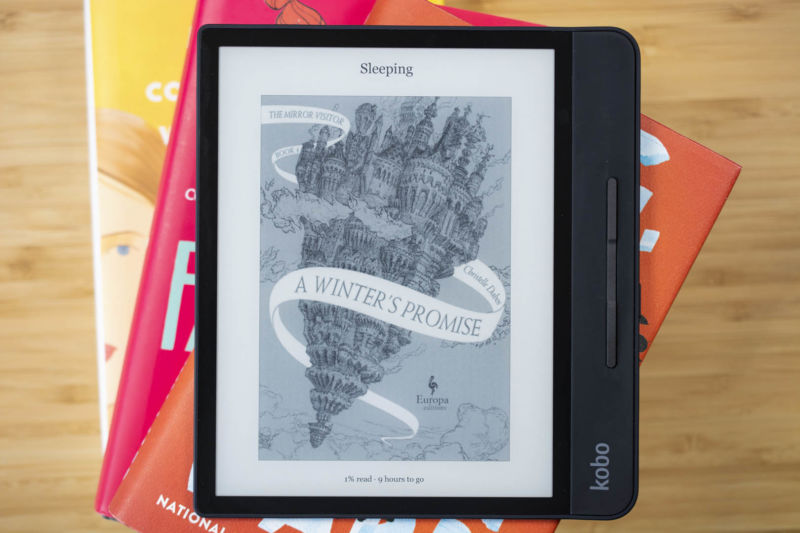 Enlarge (credit: Valentina Palladino)
Kobo has its work cut out for it. The digital bookshop company reentered the US market this year, teaming up with Walmart to sell Kobo e-readers, the millions of books in its e-book library, and a new audiobook subscription service. The Rakuten-owned company faces stiff competition not just from Amazon, the reigning e-reader and e-book king, but also the looming reality that e-reader technology hasn't changed drastically enough to propel consistent sales growth in recent years.
But Kobo is convinced that it can thrive in the US by offering competitive e-readers that feature no ads and by using Walmart's physical and online reach to introduce e-books and audiobooks to new customers. To do this successfully, Kobo needs a few things: solid e-readers at various price points, a vast e-book and audiobook library with deals and incentives that create loyal customers, and, hopefully, unique features that Amazon doesn't have.
We tested out the $279 Kobo Forma, one of the company's newest e-readers and its competitor for Amazon's $249 Kindle Oasis. It's decked out with all of Kobo's advanced e-reader features—an 8-inch 300ppi E Ink display, a waterproof design, and zero advertisements, to name a few—and as a whole, the Forma dutifully showcases what Kobo can add to the US e-book market.