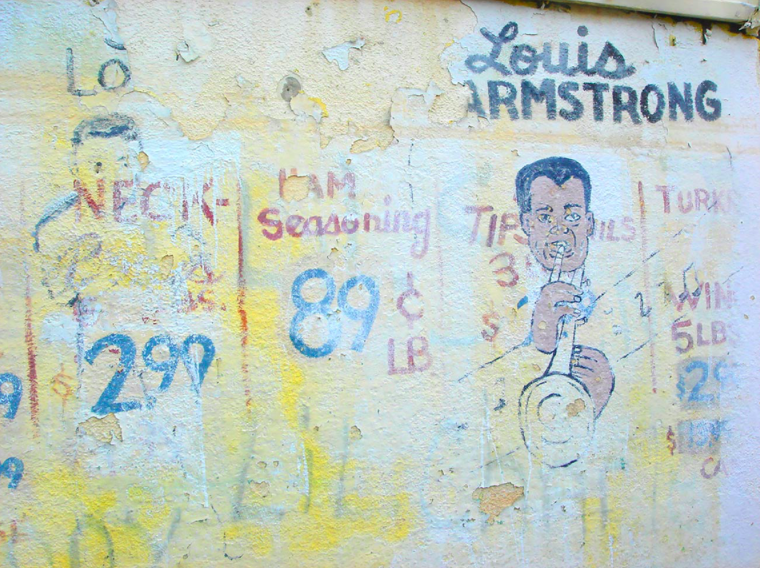 Enlarge / Sign artist Lester Carey often incorporated doodles from New Orleans flora and fauna, like his trademark pineapple or this cool portrait of Louis Armstrong. (credit: Cheryl Gerber / LesterCarey.com)
Few if any cities value local culture as much as New Orleans, but even the Crescent City has to navigate modern realities of change. And as new residents move in or new businesses replace old ones, some beloved bits of the city's artistic fabric occasionally need intentional preservation. Case in point: the work of Lester Carey.
For "over 42 years," according to one piece of the artist's work, Lester Carey had been hand-lettering and hand painting signs across New Orleans. Advertising everything from auto shops and grocers to bars and chapels, Carey's work started from a simple commercial core (NextCity profiled him in 2017, noting Carey would even offer retouches to businesses for $10 or $15). His work, however, evolved into a unique part of the city's visual language: an overall style emerged through hundreds of pieces signed "L.C.," yet each had a few individual traces of flair to make it stand apart from others.
Carey never became rich or even moderately famous; in fact, at times he even battled demons like alcohol and bouts of homelessness before passing away in 2017. But over the course of decades of work, his aesthetic may have become as representative of New Orleans as a fleur-de-lis. He painted "quirky signs in an increasingly generic world," as an obit in the local paper noted.