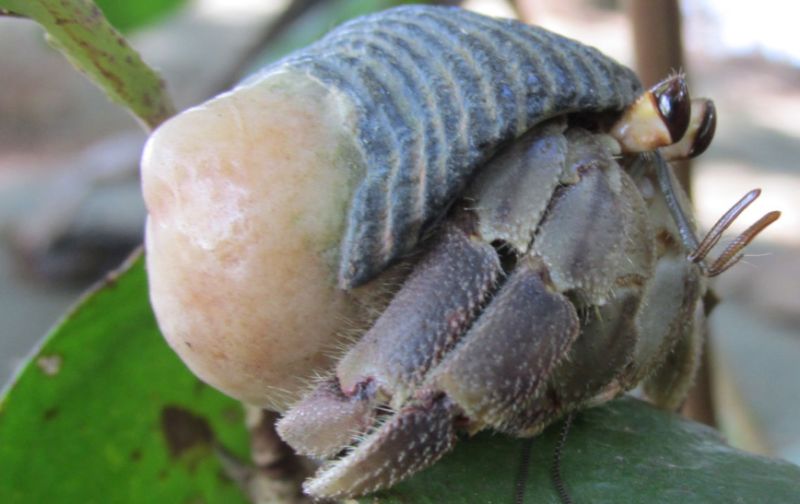 Enlarge

/

An adult male hermit crab of the species

Coenobita compressus

ambling along on a leisurely stroll. (credit:

Mark Laidre

)

Hermit crabs protect their soft, curved abdomens from harm by scavenging seashells and turning them into portable homes. That poses a challenge when it comes time to mate, since a rival can steal the shell while its occupant is, shall we say, otherwise occupied. A new paper in the journal Royal Society Interface poses an intriguing new hypothesis: some species of male hermit crabs evolved substantially longer penises so they could mate without having to venture too far outside their shells.

Mark Laidre, a biologist at Dartmouth College in New Hampshire, dubbed his hypothesis "private parts for private property." He's been studying the behavior of a particular species of hermit crab, Coenobita compressus, for the last decade.

Seashells are a valuable, limited resource—a kind of private property for hermit crabs and their most prized possession. This is particularly true for Coenobita compressus. This species engages in elaborate remodeling of scavenged shells to tailor them precisely to their liking, tearing out hard material inside the shell over several months to make more room for their bodies. Because the shells are so valuable, there is stiff competition to attain a really nice shell. Fights break out, crabs will kill another crab for their shells, and sometimes the beasts will just outright steal them. Since the remodeled shells prevent the creatures from drying out (which can happen within 24 hours), they are crucial to the crabs' survival.