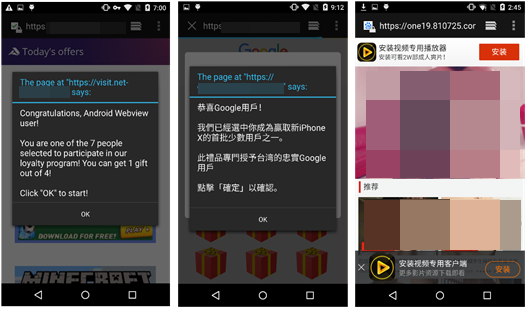 Enlarge / Screenshots of the pop-up ads displayed by malicious apps that were available in Google's Play Store. (credit: Trend Micro)
Google has banned dozens of Android apps downloaded millions of times from the official Play Store after researchers discovered they were being used to display phishing and scam ads or perform other malicious acts.
A blog post published by security firm Trend Micro listed 29 camera- or photo-related apps, with the top 11 of them fetching 100,000 to 1 million downloads each. One crop of apps caused browsers to display full-screen ads when users unlocked their devices. Clicking the pop-up ads in some cases caused a paid online pornography player to be downloaded, although it was incapable of playing content. The apps were carefully designed to conceal their malicious capabilities.
"None of these apps give any indication that they are the ones behind the ads, thus users might find it difficult to determine where they're coming from," Trend Micro Mobile Threats Analyst Lorin Wu wrote. "Some of these apps redirect to phishing websites that ask the user for personal information, such as addresses and phone numbers."