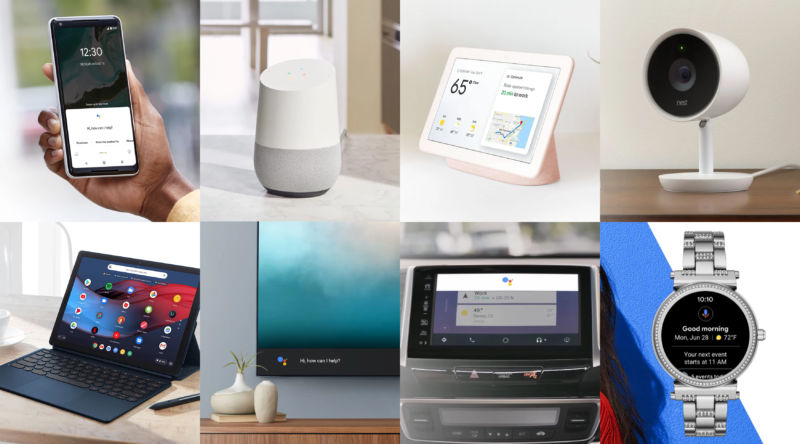 Enlarge / Some of the many things that can run the Google Assistant.
The Consumer Electronics Show (CES) kicks off this week, and the show promises to be a voice command battleground. Before Google Assistant and Amazon Alexa start duking it out on the show floor, Google wants to let the world know just how many devices have access to the Google Assistant: a cool billion. Google says it expects to hit one billion Google Assistant devices by the end of the month—that's the total install base of devices that allow the user to issue voice commands to the Google Assistant.
Thanks to a report from The Verge, we also have really recent numbers for Alexa. Amazon just announced there are 100 million Alexa devices out there, so if we're treating all devices as equal, Google has ten times as many voice command devices in the wild than Amazon.
The Google Assistant launched in 2016 on the Google Pixel phone and since then has spread to a ton of devices. There's a range of smart speakers like the Google Home line and third-party devices from JBL, Sony, Panasonic, LG, and more. There are smart displays like the Google Home Hub and third-party offerings from Lenovo, JBL, and LG. With a phone running Android Auto, you can have access to the Assistant from your car's infotainment screen. For TVs, there's both Sony and LG displays with Android TV and the Assistant built in, set-top boxes from Nvidia and Xiaomi, and even a plan for smart soundbars. For laptops, Google-built Chrome OS devices all have access to the Google Assistant, and it sounds like it's going to be a standard feature on all Chrome OS devices soon. If you make the mistake of buying a Wear OS device, you can get the Assistant on your watch, and it's even available on some Nest cameras.