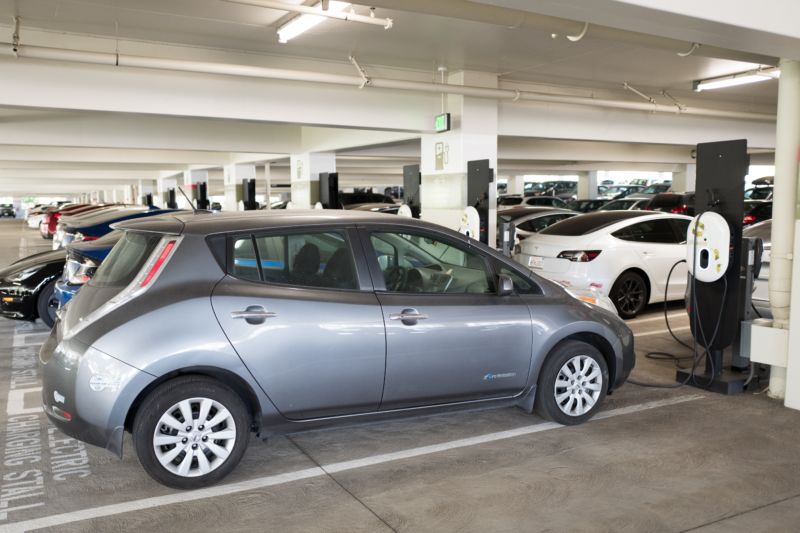 Enlarge / Nissan Leaf electric car plugged in and charging at an electric vehicle charging station in San Ramon, California, September 26, 2018. (credit: Smith Collection/Gado/Getty Images)
In November, California reportedly crossed the 500,000 threshold for electric vehicles sold in the state since 2010. Months of strong US sales in 2018, preceded by a strong 2017, are starting to show a trend: electric vehicles are selling well, especially in places where there are strong monetary and non-monetary incentives to buy them.
According to Veloz—a group of electric vehicle industry stakeholders that includes GM, Honda, Nissan, Pacific Gas & Electric, Uber, and Lyft, among others—electric vehicle sales in California hit a cumulative 512,717 since 2010.
"Overall, this year has seen exponential growth in electric car sales," Veloz wrote. "Electric cars accounted for 7.1 percent of California car sales in the first three quarters of the year, with fully electric, zero-emission car sales outpacing plug-in hybrid sales 4.1 percent to 3 percent respectively." Veloz's data tallies not just fully battery-electric vehicles but also plug-in hybrids as well as the much rarer fuel cell vehicles. The group gets its data (PDF) from the blogs InsideEVs and HybridCars.com as well as a market-research firm called Baum & Associates and estimates from the California Air Resources Board (CARB).