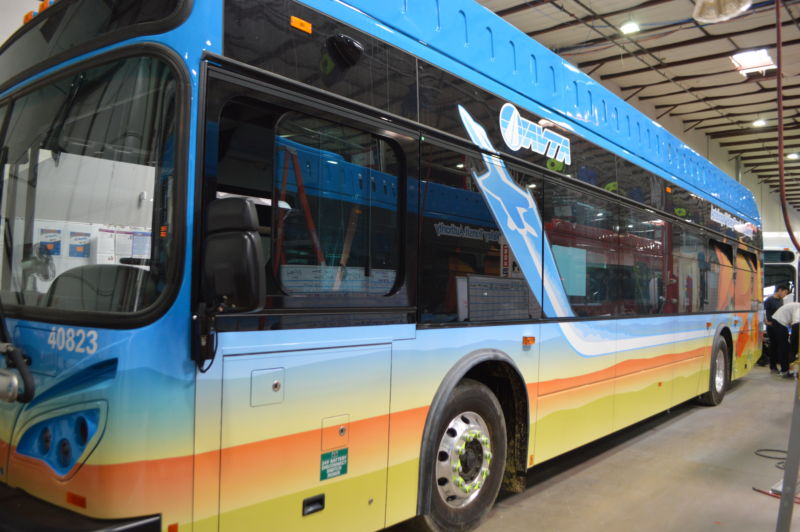 Enlarge / One of Antelope Valley Transit Authority's 79 electric buses. (credit: Megan Geuss)
On Friday, California's Air Resources Board (CARB) unanimously approved a regulation that would compel the state's public transit agencies to build zero-emissions fleets by 2040. According to the San Francisco Chronicle, the regulation would also prohibit transit agencies from investing in diesel- or gas-powered buses after 2029. Buses usually last about 12 years before they need to be replaced, the Chronicle noted.
In a press release on Friday, CARB noted that the transportation sector contributes 40 percent of the state's greenhouse gas emissions, and 80 to 90 percent of the state's smog-creating pollutants. "Full implementation of the regulation adopted today is expected to reduce greenhouse gas emissions by 19 million metric tons from 2020 to 2050 – the equivalent of taking 4 million cars off the road," CARB wrote.
Battery-electric and fuel cell buses are two potential avenues for investment, CARB noted. The air resources board added that roughly 12,000 gas- or diesel-burning buses are on California's roads today, but only 153 zero-emissions buses are in operation in California today. Still, based on orders placed by transit agencies, 1,000 such buses are expected to be in service by 2020.