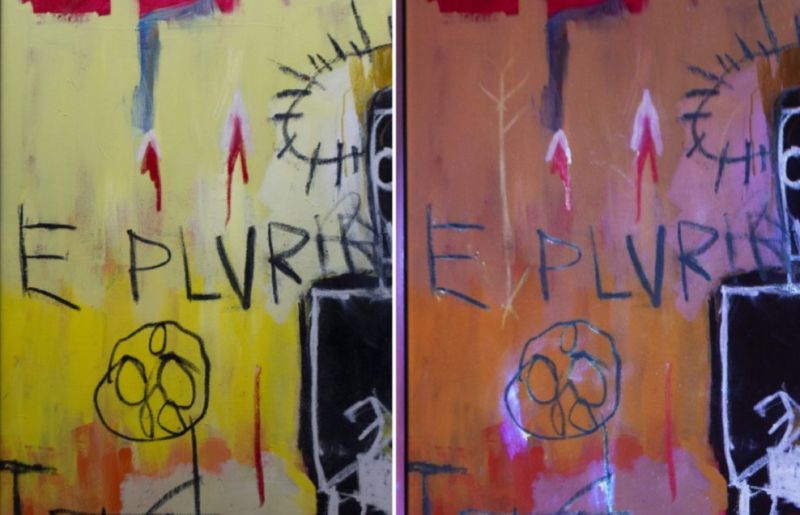 Enlarge / A detail from "Untitled" (1981) by Jean-Michel Basquiat, as viewed under normal light (left) and UV light (right). Note the hidden arrow between the letters "E" and "P." (credit: Longevity Art Preservation)
Jean-Michel Basquiat, the late neo-expressionist whose tragic life story inspired a 1996 film, used invisible ink to draw secret figures in at least one of his early paintings, Artnet News reported last month. The figures are easily visible under UV light, and more of the artist's work from this period may contain such hidden drawings.
Invisible ink has been around since at least the fourth century BC; it's mentioned in a treatise on secret communications by Aeneas Tacticus. It's familiar to anyone who has ever gotten their hand stamped when they entered a club so they could be readmitted later by holding it under UV light. There are many different types, but substances that glow in response to UV light include lemon juice, body fluids (hence the use of UV light in forensics), sunscreen, and some soaps and laundry detergents.
But invisible ink is rarely used by artists. One notable exception is the Chinese-born British artist Aowen Jin, whose 2015 exhibit at London's Horniman Museum featured a series of hand-drawn invisible-ink illustrations, which can only be seen under UV light, on the walls and floor of the Music Gallery Performance Space. Apparently, Basquiat sometimes used fluorescent materials, and signed one 1982 canvas, Orange Sports Figure, in invisible ink. But this is the first known instance of the artist intentionally embedding secret drawings into a painting.