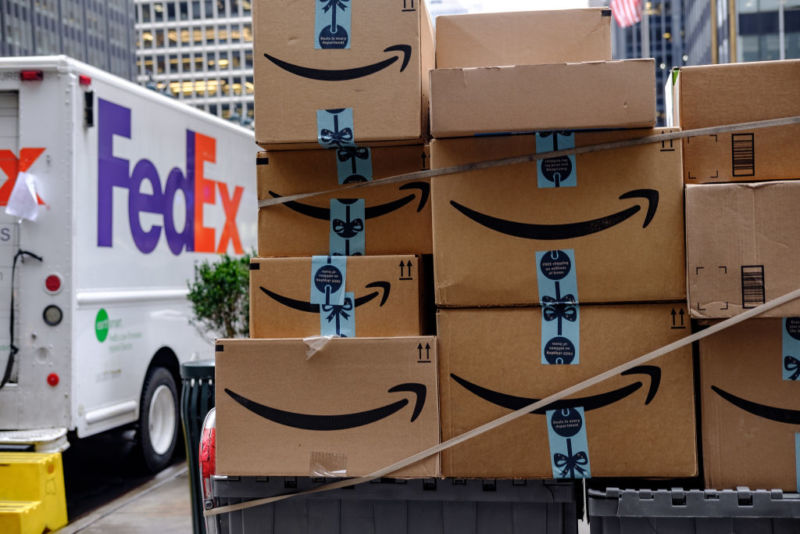 Enlarge / Amazon's going to need some bigger boxes to ship those Outpost racks next year. (credit: Christopher Lee/Bloomberg via Getty Images)
If you want to know what Amazon's big plans are for Amazon Web Services (AWS), one of the most reliable tells is to watch where Microsoft and Google cloud services are gaining traction. At last year's annual Amazon re:Invent technical conference, the big news for cloud customers was Elastic Kubernetes Service (EKS), a managed container service based on industry-leading Kubernetes—an open source platform championed by Google. And this last year, at last week's re:Invent 2018, Amazon announced its counter to Microsoft's Azure Stack with a new on-premises offering of its own.
Amazon Outposts, a service scheduled to become available in the second half of 2019, will allow customers to provision physical racks of Amazon Web Services (AWS) servers and have them shipped to their own data centers. The racks will be configured with the same servers that Amazon runs in its AWS data centers; once installed, the racks will connect back to the AWS mothership over the Internet and then can be configured with storage services and virtual machines through Amazon's AWS Management Console. And just as with services hosted in Amazon's own data centers, customers won't own these racks—they'll rent them. The costs and connectivity requirements associated with Outpost have yet to be determined.
Living on the edge
Using Outpost's "edge computing" model has some potential benefits for companies transitioning to the cloud or with large existing hybrid cloud deployments mixing on-site and cloud resources. In his re:Invent keynote, AWS CEO Andy Jassy said that consistency in operations was the primary motivation for Outpost, since customers will be able to use the same Application Programming Interfaces (APIs) and control pane with Outposts that they currently use with AWS. But Outpost also guarantees on-demand access to the virtual machines and storage on these systems, whereas in normal AWS cloud usage, customers would have to reserve those services in advance to guarantee on-demand availability. Additionally, customers may be able to eventually run many AWS cloud services locally in their own data center—services that they might currently rely on third-party software for because of performance or security concerns related to using AWS.