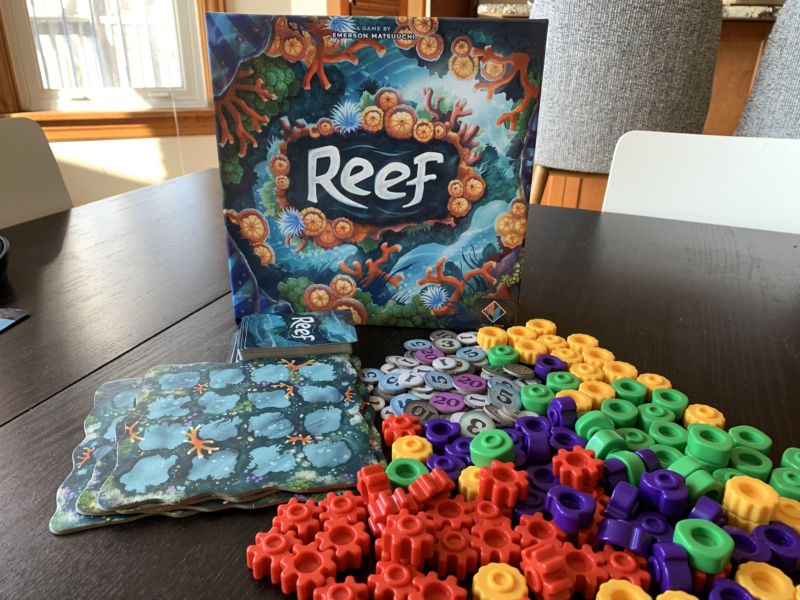 Enlarge / Reef is a bright, inviting game with a lot of fun, colorful pieces. (credit: Aaron Zimmerman)
Welcome to Ars Cardboard, our weekend look at tabletop games! Check out our complete board gaming coverage at cardboard.arstechnica.com.
Abstract, family-style board games are all the rage these days, and for good reason. They tend to occupy that sweetest of sweet spots—accessible to non-gamers while remaining strategic enough to keep veteran players engaged. Their simple rulesets are packaged with quality components, bright colors, and light themes. In short, they're games that just about anyone can enjoy.
The apotheosis of the form was arguably seen in 2014's modern classic Splendor, an economic game about collecting satisfyingly hefty gem-styled poker chips. But last year, publisher Next Move Games introduced another contender to the throne: Azul, a puzzle-y abstract game about drafting and laying beautiful bakelite tiles. The game took the board gaming world by storm, eventually earning the prestigious Spiel Des Jahres ("Game of the Year") award in Germany. So when Next Move announced another abstract spatial puzzle game, Reef (this time by Century: Spice Road designer Emerson Matsuuchi) we were hoping for a second lightning strike. It seems we've gotten one.