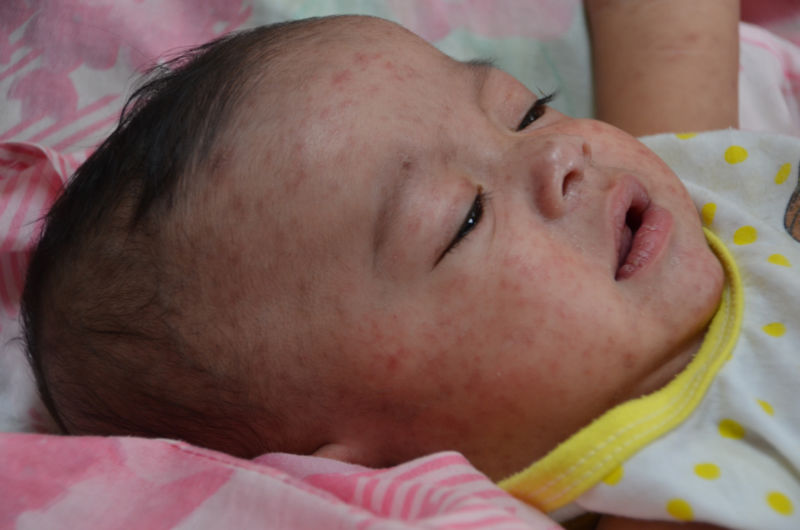 Enlarge / A baby hospitalized with measles in the Philippines, in an outbreak following 2013's typhoon Haiyan.
(credit: CDC Global)
In 2010, the World Health Organization (WHO) set some ambitious goals for measles worldwide. By 2015, they wanted to reduce the number of deaths caused by measles by 95 percent compared to 2000. They set similarly ambitious targets for vaccination rates and measles infections.
The world has not reached these goals. And between 2016 and 2017, there was an alarming uptick in measles cases worldwide, according to a joint report by the WHO and CDC. "Complacency about the disease and the spread of falsehoods about the vaccine in Europe, a collapsing health system in Venezuela, and pockets of fragility and low immunization coverage in Africa are combining to bring about a global resurgence of measles after years of progress," said Dr Seth Berkley, CEO of Gavi, the Vaccine Alliance, in a statement about the report.
Overall, between 2000 and 2017, there has been a lot of progress: annual global deaths have decreased 80 percent, from 545,174 to 109,638. Over this time period, measles vaccination has prevented approximately 21 million deaths globally, compared to a hypothetical world with no measles vaccines (in this world, the death rate would have been a lot higher in 2000, too). The number of cases reported annually plummeted from 145 cases per million people to just 25—although the goal was five cases per million. And 85 percent of people globally had received the first dose of the measles vaccine in 2017, compared to 72 percent in 2000.