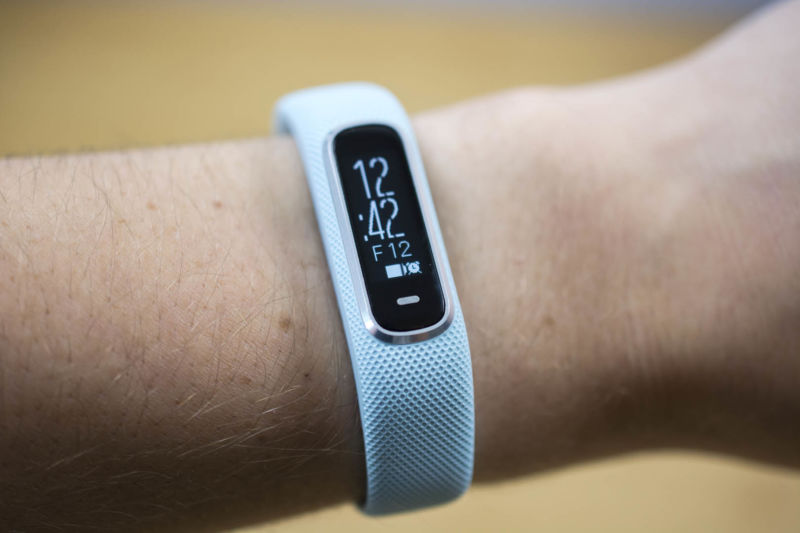 Enlarge (credit: Valentina Palladino)
Fitness tech companies, particularly Fitbit and Garmin, want to monitor the level of oxygen in your blood. It's a metric that could help spot signs of sleep apnea and other breathing-related problems, so companies have been scrambling to perfect their SpO2 sensors and incorporate this data into their ecosystems in a meaningful way.
Fitbit still hasn't activated its SpO2 monitors in its wearables (although that feature should roll out in beta in November), but Garmin has. Its newest fitness tracker, the $129 Vivosmart 4, includes an SpO2 monitor and measures Body Battery, which lets you know when you should plan your next intense workout session and when you should take a rest day.
Those two features, in addition to an all-new design and an affordable price, attempt to push the Vivosmart 4 above the rest of the fitness tracker crowd. As we saw with Fitbit's Charge 3, trackers have fallen into a boredom trap as of late, so companies are trying to find unique ways to capture the attention of potential customers who aren't fully sold on smartwatches. While Garmin achieves a certain level of differentiation with the Vivosmart 4, it's unlikely that everyone who prefers fitness bands to smartwatches will gravitate toward this device.